I came across an article today in the News about a new Dallas office tower was sold in one of the many cryptic and odd commercial real estate transactions that take place in the city every day. That wasn't what interested me, though. The picture you see here (from the mentioned DMN article) is what that particular building, overlooking the Arts District, looks like at night.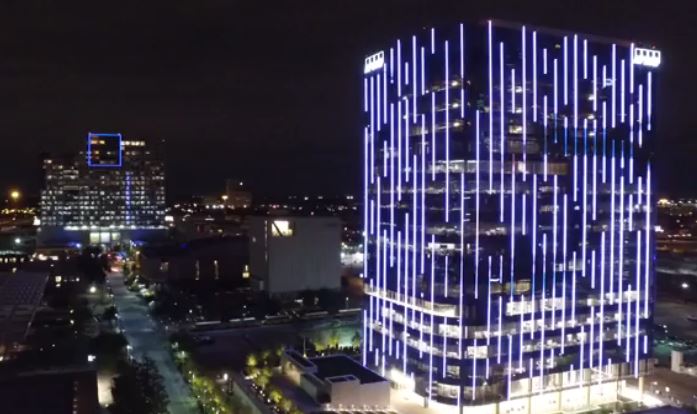 In keeping with the downtown trend of flashy lighting, the KPMG Tower has even more of the hyper-bright multi-colored rods that also grace the BoA Plaza, the Omni, Reunion Tower, Hunt Oil…I could probably name a few more upon reflection. These last few years have brought the magic of the LED light to the masses with a massive decrease in cost. It's allowed for a revival of the glitzy lighting trend of the 1980s in downtown Dallas. However, now, LEDs allow for the change of colors easily and with little to no maintenance. Lights placed in a certain fashion and programmed can display images like the Omni.
It's starting to look a bit like our not-too-distant Blade Runner future. The skyline of Dallas has certainly benefited from LEDs, and at better efficiency, to boot. Plus, there really isn't a height limit on building signage, so maybe we'll actually get a Coca-Cola ad like in the movie? Hmmm…
Anyway, to me this new Dallas skyline we've been given pulls off a kind of flashiness that has somehow shirked the kitsch of Vegas lights. If you want to get all film-studenty about it, what about saying it conveys a "reserved confidence" or something? I dunno, maybe it's just a way for this spunky town founded next to a muddy ditch because everybody was tired to stand out somewhat in this globalized culture of all kinds of bright metro areas.